252-670-8053 bruce@brucemorrisonmarine.com
PROJECT MANAGEMENT

PROTECTING YOUR INVESTMENT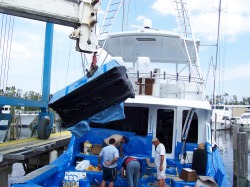 Your engine has "blown". Whether under warranty or not, you mutter some choice words, exhale deeply, and face the truth: the old must come out and the new must go in. But how? A certified, reputable engine mechanic can dismantle the old and align the new, but who decides the least damaging and most efficient way to get the engines in and out of place? If an access must be cut, where does it make the most structural sense?
Do you trust the boatyard staff to know?
EXPERIENCE COUNTS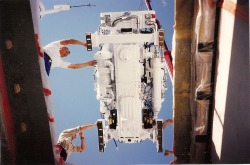 A Project Manager not only needs exceptional experience to make these decisions, he also needs an amiable personality and a respected reputation in the field in order to effectively bring mechanics, electricians, fiberglass repairers, painters, crane/lift operators, and touch-up crews together as a team. Bruce Morrison brings these qualities and more to your refit project, making sure that not only is the project conducted as efficiently and effectively as possible, but that those inevitable "Not My Job" tasks between specialists do not get left undone.
Whether the job is one, large issue (such as an engine replacement) or a collection of upgrades, replacements and/or reconfigurations, a good project manager that represents YOU can save a lot of headache and money in the long run.
---
NEW BOATS
You've forklifted a hefty check onto a broker's desk and commissioned a new vessel. Now---a seemingly endless parade of decisions march towards you, everything from engine size to head system; veneer color to countertops. First you're supposed to decide what you need and want; then you're supposed to decide whether the standard configuration is sufficient or if an upgrade makes more sense. The hull begins to move through production; hoses laid and wires run for the systems that will go into place. Meanwhile, however, who is keeping tabs on the process? Who is making sure the original ideas and expectations you expressed to the broker are getting to the person doing the job? A communication gap is not intentional, by any means, but it happens. And what about construction issues that you may not think to address? Are you hot-natured? Will you need another AC unit strategically placed? Does the master head get enough air? When the head pump requires replacing, is it accessible without cutting into a floor or bulkhead? Are any pumps or is the compressor you ordered situated behind your pillow's bulkhead? Are ALL commonly serviced equipment easily accessible, or will you spend a small fortune in 2 or 3 years having access cut where an inconspicuous hatch could have easily been installed during production?
As an experienced Project Manager, Bruce Morrison can professionally guide you around unforeseen problem areas and assist you in getting exactly what you wanted. After 13 years of working in Customer Service with Hatteras Yachts, Bruce understands a buyer's expectations, particularly after that last check gets written upon delivery. Why settle for "it is what it is". Call Bruce Morrison to be on
your
team.